Iquitos is located in northeastern Peru and is a Peruvian port city. More than that, it's the gateway to your unforgettable jungle experience in the Amazon and one of the most popular jungle destinations in Peru. The Peruvian territory of the Amazon jungle is roughly 60% and is home to 850 different species of flora, over 330 birds and 150 reptiles and amphibians!
As you can imagine, your travels in this city will be completely different from what you have seen before in Lima or Cusco. Iquitos has a very unique vibe. Get ready for hectic traffic with more three-wheeled mototaxis than you have ever seen before, an interesting jungle culture and extraordinary food.
To give you the best insights on what is awaiting you, we created this Iquitos Peru guide with all the information you need to know. We'll cover topics such as the different weather periods, the city of Iquitos itself and its culture, as well as why you should be careful when trying Ayahuasca. At the end of the article, you will be perfectly prepared for your time in the Peruvian jungle.
The Best Time to visit the Amazon Jungle
The air humidity in the jungle is a whole different story, as it averages around 80-100% all year long. Read that again, can you imagine such a high humidity? The average annual temperature in Iquitos is approx. 26°C (80°F). Temperatures can rise up to 31°C (88°F) in the day and drop to 22°C (72°F) in the evening.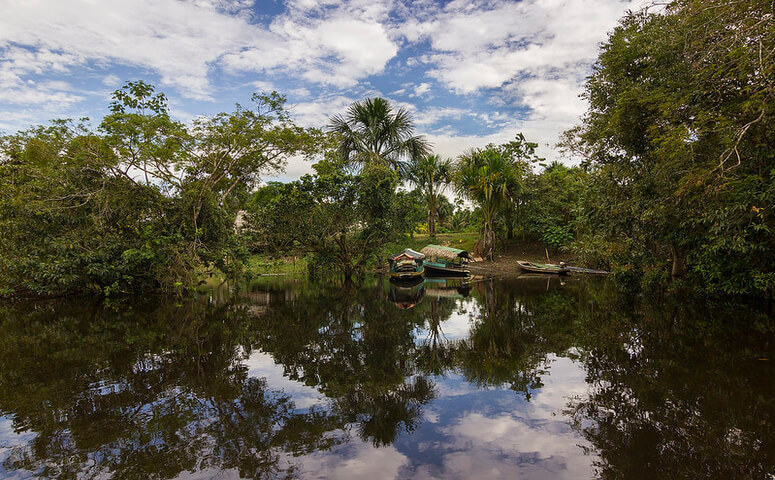 A typical view of a local community shore in the jungle of Iquitos.
Before coming to the jungle, you should consider that it rains a lot more in March, April and May, whereas in June, July and August the rain decreases a lot. Therefore, the best time to visit Iquitos really depends on your personal preferences and what you'd like to see. 
Depending on when you visit, your itinerary might slightly vary. This is because the high and low water seasons require the lodges to be flexible with their programs, e.g. if there is not enough water in the creek, it won't be possible to do the boat tour at night. In the following paragraph, we'll go more into depth regarding this point. 
High Water Season in Iquitos, Peru
One important point to consider when planning your trip to Iquitos is the high and low water season. 
Let's start with the high water season which is from December to May. During these months, the water levels are the highest and the Amazon river rises more than 7 m (22 ft). 
Visiting during this time allows you to get deeper into the rainforest by boat and explore impassable creeks that you cannot pass during the low water season. As a result, you'll get even closer to the incredible wildlife of the Amazon river. In turn, your probability of seeing animals such as pink dolphins, giant river otters, night monkeys, river turtles and other species living deep in the jungle is higher.
In the high water season, locals have to be prepared as the water levels rise significantly.
Low Water Season in Iquitos, Peru
The low water season is from June until November. Temperatures can rise up to 34°C (90°F) during this period.
The biggest difference to the high water season is that you have to walk deep into the jungle instead of being able to take a boat. The water levels are up to 7 m (22 ft) lower than during the high water season. Therefore, it requires some hiking instead of using the boat or canoe. 
So in case you prefer to explore the jungle by foot instead of sitting in a boat, you should visit Iquitos in the low water season. A nice side effect of the low water season is that due to less rain there will be fewer mosquitos around. Still, make sure to always use insect repellent. 
How to get to Iquitos, Peru
To get to Iquitos you have only two options: by air or water! As the city is located in the middle of the Amazon and around 1.012 km (628 miles) away from the capital Lima, the best way to get there is by plane. 
The flight from Lima to Iquitos takes about 2 hours. From Cusco to Iquitos, it's a little more than 2 hours. Normally, the most reliable airline for this flight is LatAm.
In the end, it depends on your travel itinerary as you can visit the jungle before or after your tours in Cusco. From Lima to Iquitos you will have more flights available and probably also cheaper ones than from Cusco to Iquitos. 
The City of Iquitos & its Culture
Iquitos is also known as "the capital of the Peruvian Amazon", as it's located next to the Amazon river and in the middle of the jungle. In fact, it's the largest city in the world that can only be reached by boat.
The jungle city is home to a complex cultural life mainly of native Iquiteños, Brazilians, Colombians, Chineses and settled expatriate ethnicities. In this unique place, there live more than 470.000 inhabitants in four districts: Iquitos, Punchana, Belén and San Juan Bautista. 
The streets of Iquitos are always hectic and crowded which is why driving here isn't easy.
An astonishing fact is that in Iquitos, you'll hardly find find people driving cars! The streets are mainly dominated by more than 25.000 moto taxis, also known as auto rickshaws, which are three-wheeled motorbikes mostly used as taxis. 
The benefit of the 3-wheelers is that you can enjoy a fresh breeze and that you get around really cheap. Besides that, you can find large buses that are made out of wood. You have to see it with your own eyes in order to believe it. 
The Belen street market is not just your typical go-to market. It's famous for its jungle foods, jungle crafts and especially for the Shaman's Alley, known as "Merkato del Brujo". Here, you can get all kinds of medicine, tobacco and other exotic things from the Amazon. 
This is an outstanding place for all fruit lovers. You can try fruits that you have never heard of before, such as cherimoya, guanabana, aguaje, lucuma or camu-camu.
Prepare yourself to find a lot of extraordinary things at Belen market.
However, be aware of pickpockets because the streets are very narrow and it can get crowded. We recommend you go with a local guide that can help you with the communication, make sure you get the best deals and show you some interesting things you have never seen in a market before.
While exploring the jungle of Iquitos you will have the opportunity to meet one of many native communities. The majority of them have been civilised by Catholic missions, but they still kept their ancestral habits such as dances, feeding, language, art and much more. 
Some of the most known communities are: 
Capanahuas 

Boras

Jibaros 

Cocamas

Ocainas

Remiyacus
Visiting the local community and understanding how they live is a memorable experience.
Every one of these tribes usually keeps a specific area of a territory that belongs to a certain basin of a river. Can you imagine that there are more than 64 different tribes and sub tribes in the Peruvian jungle? 
These communities have an enormous expertise in using plants and herbs for healing. They are very well known for hallucinogenic beverages, like "Ayahuasca". 
One of the main reasons why many people fly to Iquitos is to try Ayahuasca, a powerful psychedelic brew made from local plants. Shamans have been using their plant healing methods for over thousands of year. In recent years, it has gained a lot of popularity around the globe. 
If you're planning on taking Ayahuasca, make sure to do proper research before.
Many people have been reporting life-changing experiences after taking this medicine, others had dramatic visions and hallucinations. In case you want to try it, we recommend doing proper research and doing it in a professional environment with people that know what they doing.
We strongly urge you not to buy it or any other unknown substance at the Belen market and try it out on your own. The effects could be fatal.
Get ready for some of the most incredible food you have ever tried, as the gastronomy in Peru and especially in the jungle is something really unique. As Peruvians really identify themselves with their gastronomy, this topic just had to be part of our Iquitos Peru guide.
The typical Peruvian jungle food is tasty and rich in calories.
It is an exotic mix of Peruvian, Brazilian and Colombian food with influences from the Andes as well as the Pacific coast. 
Some of the most popular dishes are:
Juane:

The base consists of rice, meat, olives, hard-boiled eggs, aromatic herbs and spices. All of this is is wrapped in bijao leaves (plant from the jungle) and then boiled in clay pots.  

Tacacho:

Is made out of fried slices of cooking banana, then mashed with chicharon (fried pork fat) and usually it's served with chorizo (fried sausage). 

Sarapatera:

This is a famous stew prepared with "Charapa" (turtle variety) meat, spiced with garlic, onions, green banana and other herbs! The cooking of the stew is made in the shell of the turtle and it's served it in the same shell as well.

Tacacho con Cecina:

This is a traditional Peruvian dish that is typically served for breakfast. Normally, the plantains are grilled or boiled and after that they're mashed with a large wooden mortar. After that, this mash is combined with lard, salt, pieces of pork rind and served with vegetables and chorizo on the side.
What to pack for the Amazon Jungle
For many of you, it will be the first time you visit the jungle. That's why you might be wondering what kind of clothes to pack.
The weather in Iquitos is very special, because most of the time it's very humid and warm at the same time! In fact, it's possible that you wake up with a blue sky, but in the afternoon it rains like crazy. Due to the rapidly changing weather, it's crucial to pack adequate clothing.
A quick summary of what you should bring: 
Dri-fit clothing

Long sleeve shirts and trousers

T-shirts, tank tops and loose cotton clothing

Shoes and socks

Light windbreaker

Swimwear

Hat/cap
To get a detailed overview of what to bring, check out our Iquitos Peru packing list. 
During your jungle tour, you'll be on the Amazon river various times for your excursions.
Once you arrive in the city of Iquitos, you should take the usual precautions and try not to walk after dark. Always be aware of your surroundings and watch out for pickpockets.
Usually, you won't stay for too long in the city. Our team picks you up from the airport (luggage claim) and then you head to the city harbor from where you take a speed boat to the lodge.
In the jungle itself, you'll be safe. Of course there are dangerous animals, but you won't face any of them in the excursions. Still, it's very important that you always listen to the instructions of your guide. The animals and the nature of the Amazon rainforest are something very unique, so it's important we respect it and behave like a guest. 
Vaccinations & Medication
A commonly asked question is whether it's necessary to have the yellow fever vaccination when doing the Iquitos jungle tour. The answer is no, it's not necessary. All of our team members did the 3-day tour without vaccination and had no problems. However, if you feel more secure getting this vaccination or if your doctor recommends it, then you should get it. 
What you should definitely bring is enough insect repellent, sunscreen and your typical travel kit with necessary medicine.
Filtered Water
Please be careful and do not drink tap water in your lodge, only filtered water. We recommend you bring a 1-1.5l bottle of water with you, so you can refill it every time you need to.
This is what the lodge where we stay looks like from above.
What most tours look like
Most jungle tours are 3-4 days long and their programs are rather similar. This means that you'll be picked up from the airport and taken to the harbor of Iquitos from where you'll take a speed boat to the lodge. Some lodges are closer to the city, others are deeper in the jungle. Therefore, the time spent on the boat depends, but normally it's around 1.5-3 hours.
On the monkey island, you'll get to interact with some incredible monkeys.
The programs the lodges offer depend on whether they have any collaborations with local communities or local institutions, helping them financially by organising visits for travelers. 
Some of the typical activities most lodges offer are:
Boat tour on the Amazon river

Visit of the monkey island

Get to know a real local community

Jungle walk at night
During our Iquitos jungle tours, you will visit the monkey island, dance with a local community, experience a boat tour by night on the Amazon river, hike through the jungle in the day and at night, learn more about the unique flora and fauna of Iquitos and much more!
Apart from the amazing itinerary, what makes our tour special is the combination of adventure and comfort. After experiencing unforgettable moments in the jungle, you will return to a lodge equipped with a pool, a restaurant with delicious regional food. Most importantly, you get to sleep in comfortable beds in rooms that are entirely protected by mosquito nets so the bugs don't bother you at night. There are also various hammocks perfect for relaxing and listening to the sounds of the jungle.
Relaxing at the pool in between the tours sets the tone for a relaxing vacation.
Based on our experience and the feedback we obtained from our travelers, this combination is what made their trip even more special. They said they felt like a jungle explorer while enjoying small bits of luxury. In the end, it depends on how much you are willing to spend on your experience in the Peruvian jungle. 
Our recommendation is to pay a little more and to have a comfortable bed with mosquito protected rooms, delicious food and just a place where you feel safe and happy – especially after returning from a long day in the warm and humid jungle. Undoubtedly, this will contribute positively to your overall experience. 
Iquitos in Peru – A place you will never forget
In case you plan on traveling to Peru, you definitely need to include Iquitos in your itinerary. Not only are the flora and fauna worth seeing, but it's also fascinating to learn more about the diverse cultures and the communities. On top of that, get ready for a unique culinary experiences with the flavors of the jungle!
Before you decide when to explore this amazing place, make sure you know about the pros and cons of the respective high and low water seasons. Your experience can be very different depending on which one you choose. Also, remember that it rains a lot more in March, April and May. In this high water period, you can head deeper into the rainforest by boat, allowing you to get very close to the unique wildlife! 
With some luck you'll see the rare pink dolphins in Iquitos.
Contrary to that, the rain decreases in the months of June, July and August. In the low water period, you won't be able to do boat tours through side creeks of the Amazon river but you can walk in the jungle. This is also a very nice experience.
In the end, it doesn't matter how many days you stay in Iquitos, as the jungle experience by itself will be a unique memory for your entire life. We hope that after reading our Iquitos Peru guide you've gained a better idea of what to expect when visiting the Peruvian rainforest. 
If you have any additional questions, feel free to leave a comment below or send us a mail.